HPA recently completed customer service surveys among monthly and daily parkers at the Morgan Street and Church Street Garages.  Parkers were asked to register their level of satisfaction with HPA's facilities in several service categories, including ease of finding a space, cleanliness, staff professionalism, signage, ease of exiting and payment, security, overall customer service, and overall satisfaction.
Of note, the survey of Church Street Garage parkers was conducted in the midst of a $1.2 million restoration project that began in July and includes concrete repairs, waterproofing, painting and new interior signage.
HPA and its parking operator – Republic Parking are working diligently to address any inconveniences to parking patrons while we complete improvements to the facility.
Here are the survey highlights: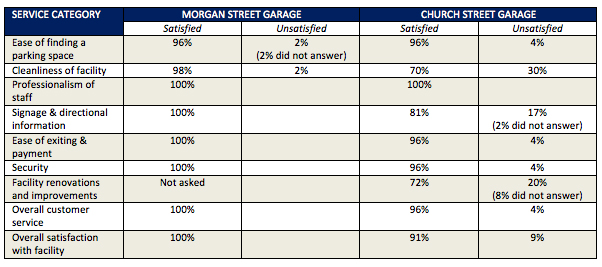 "We hold the opinions of our customers in highest regard and this survey data provides valuable information on areas where we're meeting or exceeding expectations, as well as those where we can continue to improve our facilities and the parking experience," said Mark K. McGovern, CEO of HPA.
If you have an opinion you'd like to share, please give us a call at (860) 527-7275 (our office hours are Monday through Friday from 8:00 a.m. to 5:00 p.m.) or send us a fax at (860) 549-7275.