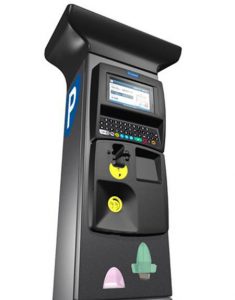 HARTFORD – October 31, 2016 – After an extensive evaluation of its current and potential new meter systems which included patron feedback, Hartford Parking Authority (HPA) has selected the next generation of downtown parking meters.  HPA has contracted with a top national meter provider, Parkeon, Inc., to retrofit Hartford's 258 aging payment kiosks.
The new kiosks will provide a large color screen and full keyboard.  The new meters will forgo the need to return to your vehicle to display a payment stub, as well as improve space availability by eliminating the capability to "feed" a meter for the entire day.  The meters will also shut off payment after 6pm and during special events.
"On-street parking is a limited resource that is shared by many individuals who have a wide spectrum of parking needs.  Our selection of new Parkeon hardware and associated software features strikes a balance in addressing all of those needs," said Eric Boone, Hartford Parking Authority CEO.  "Upgrading the meters is only the first of several improvements that HPA will implement over the next year both downtown and in the community to meet the Hartford's on-street parking needs."
The upgrade will allow for the addition of a mobile app, which HPA expects to implement shortly after all of the kiosks have received the new upgrade. The meter upgrade is expected to commence in early November and be completed by January.  HPA is also researching the possibility of enabling merchants to validate customers' on-street parking, and the modification of time-limit regulations in underutilized parking areas.
About the Hartford Parking Authority
The Hartford Parking Authority (HPA) meets the needs of parkers Citywide by consistently providing convenient and affordable parking, and strives to be a leader by incorporating parking industry best practices and actively partnering with the City of Hartford in promoting economic and community development.  The HPA oversees metered and regulated parking spaces on Hartford streets, as well as operates and maintains the City-owned MAT Garage, Sheldon Street Lot and DoNo Surface Lots.  For more information, contact the Hartford Parking Authority at 860.527.7275 or visit www.hartfordparking.com.