How to Pay using the "Woonerf" app
***CLICK HERE** to use the HPA parking app "Woonerf" @ www.woonerfct.com
How to Pay at the Meter
Follow the on-screen instructions, select the form of payment and amount of parking time desired, as indicated by printed instructions on the Parking Pay Station.  The minimum purchase for parking is twenty-five (25) cents for fifteen minutes.
The Parking Pay Station will generate a receipt stamped with an expiration time and date, keep this for your records.
Credit Cards Payments at the Meter
When using a Debit/Credit Card to purchase parking, follow these simple steps:
Press the

GREEN

 CHECK button or WHITE START button, then press 1 to choose Parking
Enter Plate – You MUST enter your FULL and CORRECT Plate information. 

If you do NOT enter your plate number you will get a ticket

If you get a ticket due to no plate number entered, you can appeal it but a $15 fee will apply

Press the 

GREEN CHECK 

button
Press 1 for Standard Parking or 2 for Disabled Parking
Insert credit card/debit card into slot marked "1 Instert Card"
Use the

BLUE +/- 

buttons to purchase your desired amount of time or press the 

BLUE

"

MAX

" button to purchase the maximum amount of time allowed
Press the

GREEN CHECK

 button once the proper amount of time is displayed on the screen
When approved, the Parking Pay Station will print your receipt

How to make Coins Payments
When using Coins to purchase parking, follow these simple steps: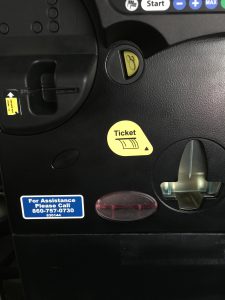 Follow the first four steps above, insert coins in the slot marked with the coin icon
The amount of time purchased will be displayed on the screen
Once you have purchased the desired amount, press the

GREEN CHECK
 The Parking Pay Station gives you much more flexibility.
Parking regulations are only in effect at specific times and on specific days, as indicated on the signs posted on each street or block.  If parking is prohibited during specific hours on a street or block, your vehicle will be in violation even if the time has not expired on the receipt displayed in your vehicle's curbside windshield. Parking Pay Stations will not operate during the restricted time and will flash a "No Parking" message on the display. In addition, credit/debit card and coin payments will not be accepted during times of parking restrictions.