Traffic Advisory for Allyn Street from the City of Hartford (change in traffic pattern):
Effective Tuesday evening, September 15, Allyn Street between Ann Uccello Street and High Street will be changed from one-way eastbound to two-way traffic. The road will be pre-marked for line striping during the day and the new pavement markings will be applied Tuesday evening.

Traffic Advisory for Atheneum Square North
Beginning Monday April 13th Atheneum Square North will be closed to all traffic in support of the construction/maintenance project at Travelers Tower Square. This closure is expected to last through October of 2016. Any questions or concerns regarding this project or street closure should be directed to Tom Luszczak Senior Director of Asset Management Travelers Insurance at 860-954-7565

Traffic Advisory for Trumbull and Windsor Streets
Effective Friday, April 17, 2015 the City of Hartford will temporarily close the portion of Trumbull Street between Main Street and Market Street.  Trumbull Street will be temporarily closed from end of day Friday, April 17, 2015 to approximately Friday, September 4, 2015.  The closures are due to continued construction of the Hartford ballpark and the associated relocation and reconstruction of Trumbull Street.
Additionally, the portion of Windsor Street between Pleasant Street and Trumbull Street will be permanently closed. Upon permanent closure, Windsor Street will be used first as a construction staging area for the ballpark and then reconstructed as the "Windsor Walk" pedestrian and bicycle lanes as presented in the Downtown North development plans.
HPA has made a map below to help visualize the closures and provide alternate paths to reach local parking lots.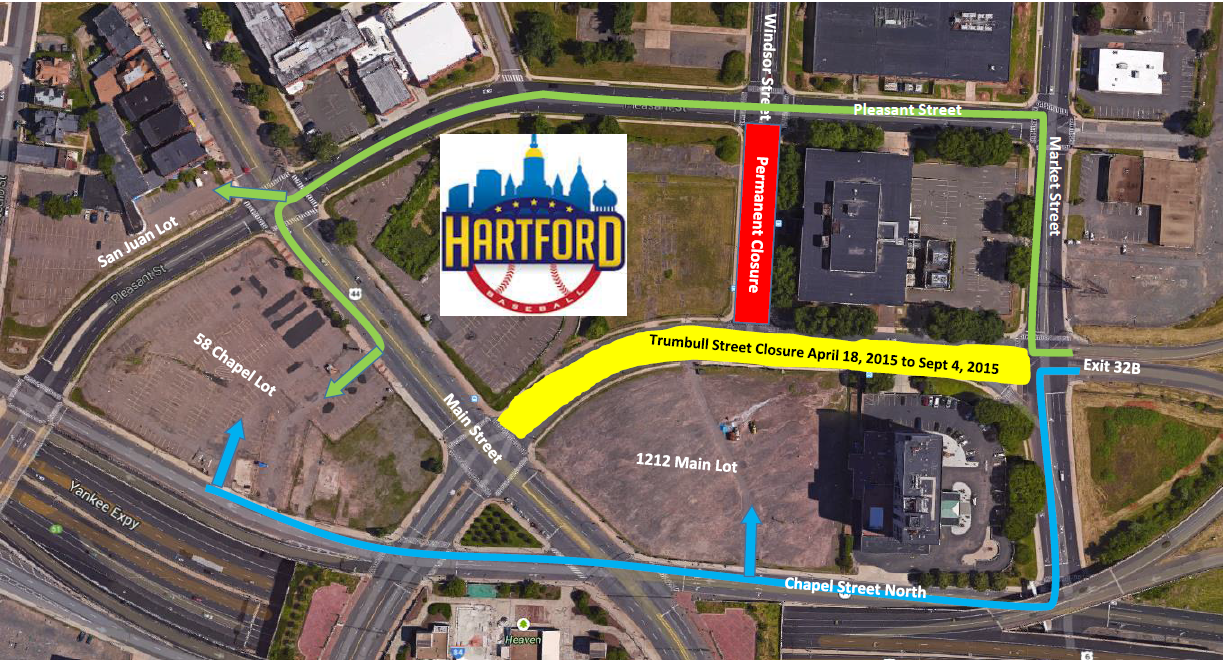 ---