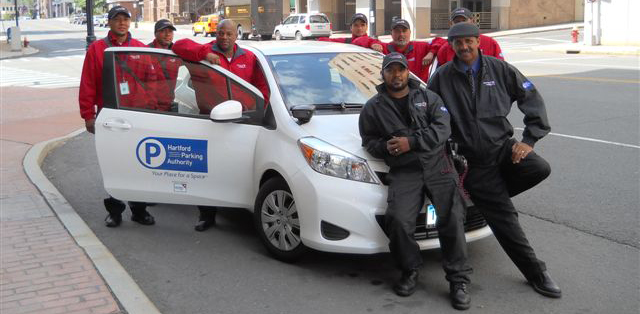 Our new Parking Ambassadors are visible on City streets (look for their red shirts or jackets) and available to assist you with making change for our Pay-and-Display Stations, providing directions, answering your questions and more.
Parking Ambassadors also use efficient enforcement of metered and regulated parking because it's helpful to downtown businesses to have curbside spaces available for short-term visitors and deliveries during daytime hours.
Plus, on-street parking is free after 6PM and on weekends (when you legally park in a metered or regulated space, within limitations noted by signage next to the space).
Long-term parkers (those of you who want to park for longer than two hours) are invited to park at HPA garages because that provides greater accessibility of on-street spaces for people making shorter visits.
We highly recommend that you read the parking signs…and ask the Parking Ambassadors for assistance with on-street parking.
And if you happen to get a parking citation, we've made payments and appeals easy and convenient to resolve.